Google My Business Action Plan
The overview page for the Google My Business Action Plan
The Setup Phase is simply the items you would need to set in place.
These are the items you will want to do on a continual basis for managing your Google My Business account.
Ok so hopefully you now see that having more users click on and engage with your GMB listing will help boost its visibility.
The following strategy will help "BOOST"  Phase 2 of the GMB Growth Strategy!: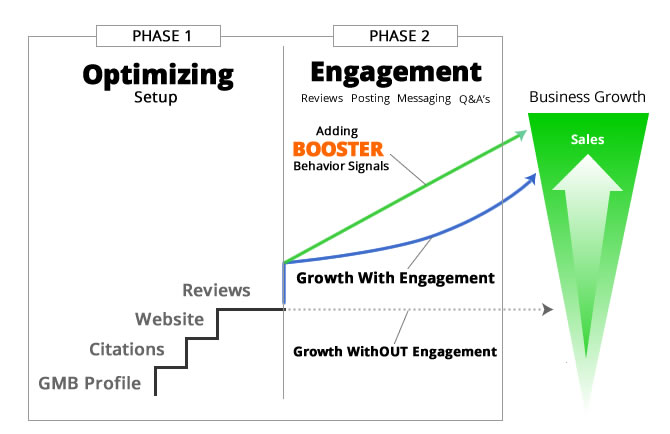 ‍The Engagement Booster focuses on pouring fuel on the fire by amplifying your engagement..
However, we can't simply search for our business and click our own results a bunch of times to get the effect we're looking for.
Google tracks things like IP address, browser type, and more to track unique users.
Instead, we will need to use a service to do this for you, at a scale that brings a meaningful result to your GMB listing.
To do this, there are a few services I've used, however the best one I have found is:
SERP Empire (SERP stands for Search Engine Result Page)
‍The biggest factor that leans me toward Empire is the GEO Targeting Traffic. Meaning, you can choose not only the Country the clicks come from, but also the State. For local small businesses, that is HUGE!
They also off a free trial, so I would recommend starting there and canceling your account if you don't want to pay.
If you see great results with this, it's a relatively inexpensive way to continue to get better engagement (and visibility with your GMB listing).
The process below will focus on setting up SERP Empire.‍
Before getting started: Your GMB listing should be set up and verified at a minimum. For best results, you should have most of Phase 1 done, before doing this for the first time.
‍
Enter your business name how it was registered, or how you have it on signage, trucks, business cards etc..
Note:
Identify the keyword you want someone to search to find your business.
If your company name is "Crystal Glass Repair" and you're located in San Diego, the keyword would be "Crystal Glass Repair San Diego" – without the quotes. Pick out about 5-7 core primary keyword phrases.
Create a SERP Empire account.
Make sure you get the free trial.
Visit this page to do so: https://www.serpempire.com
Enter your email and click "Start for free now!"

Slide the slider to FREE/7Dasy (Far Left), then click "Try Now For Free"

Configure the Trial > Enter your domain name without the http or https Click Next
Enter the country you are in and click "Finish"
Go to your email and click the "Verity Email" button on the Activate Account Email sent to you.
Click "See Your Dashboard" on the page that loads
QUICKLY –

Click on the GREEN "Active" button to stop the program.
Click on the RED "Deactivate" button to stop the program from running

Click on the GOLD "Settings" button to make a few adjustments
 Choose your State from the Pull Down, Then your City (Under Region)
If you are using a paid plan, then change the Page Sessions to 4-5 pages 
If you are using a paid plan, then change the Avg Duration to 210 – 240 Seconds
Change out your keywords
Delete all the pre-populated fields by selecting and deleting (including searchs #)
Add back in all the keyword phrases you saved from step 1
If you are on the trial, then you have 50 searches per day. Just make sure the search totals for all the keyword phrases add up to 50. 
 Click the BLUE "Modify" button to Save the changes.
Click the

GREEN "Activate"

button to reactivate the campaign and start the program. 
To check on the progress of the program, just click the GREEN "Statistics" Button
Video Overview of the Empire setup process:
‍‍
That's it. You can also track the progress in your Google analytics.
If you decide to keep using the Engagement Overdrive strategy, here are further instructions:
Only use this once per month.
Short, larger bursts of clicks are more effective than slow, steady amounts of clicks each day. This tells Google that your business is "trending"  – and if you're following the Execution Plan, the extra visibility you get from this burst will lead to a continued boost in visibility.
The average business only needs about 25-75 clicks for this to have an effect.
Enter your business name how it was registered, or how you have it on signage, trucks, business cards etc..
Note:
This strategy can be used to improve the rankings of your actual website, but I do not recommend doing this by yourself.
Unless you have the right experience, there is a chance you can have a negative effect on your website with search engines.
This is safe to do with GMB because it's owned by Google (they aren't going to penalize their own properties).
If you do feel that you have the experience necessary to put this to work for your own website, you will need to take some other factors into consideration:
Choose the page you want to improve rankings for.
The keyword(s) you want the page to rank better for.
The monthly search volumes for your target keywords.
Whether or not you want to space out your order over a number of days or you want to do it all at once.
Much like GMB, this will only have good results if the page/website you are working with is set up for success.
While it may not have the link equity that the top ranking pages have, it should have a killer user experience and lightning fast load times (among other things, like Schema and keyword mapping).
If this sounds like gibberish to you, it's a good sign that you should not be trying to do this yourself.