Google My Business Action Plan
The overview page for the Google My Business Action Plan
The Setup Phase is simply the items you would need to set in place.
These are the items you will want to do on a continual basis for managing your Google My Business account.
The Q&A section of your Google My Business profile is a secret weapon that you should be using to attract more customers.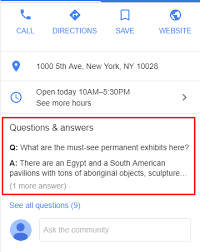 The questions and their answers appear publicly on your Google My Business profile, and may even show up at the top of your listing depending on which search query you're showing up for. For example, if a consumer is searching for a gluten-free bakery near them, a local bakery with a gluten-related question in their Q&A section might be more likely to show up.
This means that having a robust Q&A section can help your business to show up higher and for more searches.
How the Google Q&A Section Works
Note:
With Google Q&A, anyone can ask and anyone can answer any question about any business in the world.
These quesitons covers a broad range of topics, including but not limited to accessibility and parking, sales and offers, general atmosphere, accommodations, and more. Some examples of questions include:
Is there live music on Saturday nights?
How much does it cost to park?
What is the best time of day to stop in?
Do you take walk-ins?
So how do you achieve a robust Q&A section? Rather than passively waiting for customers to ask questions, you can preemptively ask and answer questions on your own Google My Business profile. 
For potential customers, getting answers to their common questions before even having to ask makes for a great first impression with your business. 
Furthermore, these are the questions that customers ask when deciding whether or not to go with your business, so it's important to keep this section maintained.
Benefits of Seeding Your Google Q&A Section
Note:
Attract Customers
The more answered questions a customer can see about your business, the more confidence they'll have in visiting your business.
Show Up in More Searches
Having questions and answers related to queries your customers are performing on Google will help you to show up for more searches, and even to show up higher.
For example, having a question and answer about whether you use green cleaning products could help you gain more prominence in a search for "eco friendly cleaning services near me".
Save Time
Google Q&A eliminates time spent on your end having to answer the same questions multiple times to different people.
Customer Experience
You can supply potential customers with answers about your business straight from your Google listing, making it more convenient for them to learn about and engage with your business.
Accuracy
When you answer the questions posed by customers, and when you seed your profile with your own questions and answers, you ensure your business gets painted in the most accurate light.
Get a Leg Up
A whopping 91% of questions from prospective customers have yet to be answered by business owners on Google.
Maintaining your Q&A section will help you to stand apart from your competitors with a personalized presence, not to mention highlight the aspects that make you shine.
Gain Insights
The questions that come in after you've posted what you think customers want to know, will help you to gain insight into any other information they need when deciding to choose your business.
Note:
Getting in front of your most frequently asked questions and making your answers readily available is a great way to turn more searchers into customers—and also a great way to stay one step ahead of your competitors.
Tips to optimize your Google My Business Q&A section:
Seed Your Profile
It's helps (and recommended by Google) to populate your own Google My Business profile with Q&As.
To get some ideas, look at the attributes Google enables you to check off for your particular category. Even though these are listed on your profile, customers will still ask about them in Q&A (such as prices, parking options, delivery options, and gift certificate availability)
Answer All Questions
Even if you've answered the most popular questions about your business, you're always going to get new questions coming in, and unanswered questions look bad.
If you leave questions unanswered, someone may step in and respond to these queries (remember: anyone can answer), there's no guarantee that the answer will be accurate. 
Monitor Questions
Google does not currently provide Q&A notifications for new questions that come in.
Aside from manually checking, the best way to receive notifications is by downloading the Google Maps app to your phone and logging in with your Google My Business account.
Once you have turned on your alerts, you will receive a push notification each time a new question is asked. 
Keep Answers Clear and Concise
When responding to questions, make sure your replies get to the point without leaving the customer looking for more or needing to do further research. 
Correct Inaccuracies
Gently correct an inaccurate response in a professional manner, and to report responses that violate the guidelines or could be perceived as harmful.
Be Aware of Spam
Some disgruntled customers to use the Q&A platform as a review platform ("Do you guys realize how bad your service is?").
Checking your questions weekly can also help you stay on top of any spam or abuse that you'll want to report to Google for removal.