Google My Business Action Plan

MEMBERS ONLY CONTENT
The overview page for the Google My Business Action Plan
The Setup Phase is simply the items you would need to set in place.
These are the items you will want to do on a continual basis for managing your Google My Business account.
Businesses with photos receive  35% more click-throughs to their websites. ~Google
Using Photos to Increase Your Conversions
Use High Quality, Engaging Images
If your a brick and mortar, try hiring a Google Trusted Photographer, who will come to your business and create a thorough virtual experience of your location. Find one in your area here: https://www.google.com/streetview/hire/
You also want to make sure that your images are uploaded in the correct format (JPG or PNG), size (between 10KB and 5MG), and resolution(720 X 720 pixels minimum).
As for the types of photos, you want to add clear images of the outside of your building, inside of the building, your products or service, your employees, and your team at work. The more the merrier!
Add Images Regularly
This tip is something that so many businesses overlook when building their GMB listing. A lot of people assume that once you add information and photos to your listing then you are done, which is the opposite of the truth.
Google has an algorithm that they use to determine which businesses stay on top of search results, and they always favor the business listings that are constantly updating their GMB.
Yes, this is time-consuming, but it is crucial if you want to stay ahead.
Once you add your base photos, you should be adding new photos every 7 days if you can. 
This doesn't mean dozens of new photos every week, just one or two recent images of your latest products, service projects, employees or events.
Review Images Added by the Public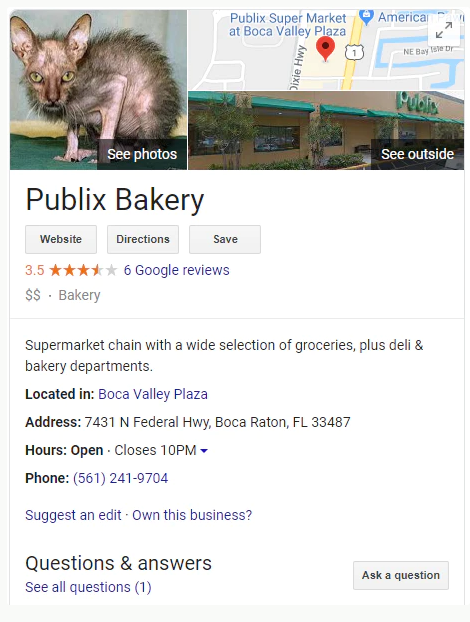 Customers can add photos to your business. Google does this to make sure that whoever is viewing your page gets the real impression of your business. This can obviously have its downside, if customers upload unflattering photos or if someone uploads a photo completely unrelated to your business.
Unfortunately, you can't just delete a customer photo if you do not like it. If you want a photo removed, you have to report it to Google and have them approve the deletion.
Because of this, you want to make sure you are constantly checking the customer photos to make sure that you avoid those negative outcomes as much as possible and immediately take care of any problems.
Avoid Irrelevant Photos
If Google creates your listing before you claim it, they will pull images that they assume are related to your business, and often times they are not ideal.

To fix this, add a lot of new, updated photos to make sure that your photos are the ones that are shown first to consumers, not Google's.

Avoid uploading old photos with items or services that you don't offer anymore.
Lastly,ndon't take photos of your building when the weather is bad or upload images that are poorly cropped.
Think to yourself: "Would I be willing to use this photo in an advertisement?" 
If you are willing to put the time and effort into optimizing your photos on your Google My Business page, Google will reward you with improved search results and hopefully add you to the highly coveted "Top 3."